The VIP Pass gets you everything included in general admission (access to keynote and breakout sessions, lunch and complimentary beer/wine & appetizers during our hosted happy hour) plus phenomenal great extras including:

Advanced Workshops
Get premium access to exclusive workshops with Tim Ash and David Nihill on April 13th (the day after HUG18). Access to both workshops is included in the price of your VIP pass. See below for details.
Access to VIP Room
- Massage table
- Snacks
- Power outlets
- Wifi
- Space to connect one on one with speakers.
Website Reviews
Get a one-on-one website review from Tim Ash to get specific, customized feedback on the best ways to improve your business' website and generate results.
One-on-One Time with Speakers
Get direct access to all of the fantastic speakers at HUG18 in our VIP Lounge.
Priority Seating
Special access to registration and the best seat in the house is reserved for you, for every single session!
VIP Hotel Room Block Near Venue
Plus invite to VIP happy hour at the hotel on the evening of April 11th.
---
VIP Workshops, April 13

A Crash Course in Conversion Rate Optimization – Hands On, Tim Ash
How much money are you losing with poorly performing websites and landing pages?
Changes in website efficiency can dramatically improve the profitability of your online marketing programs. This fast-paced and practical hands-on training will provide you with a crash course in conversion rate optimization (CRO). Noted digital marketing expert and SiteTuners CEO Tim Ash will help you to improve conversions by applying "The Matrix" methodology to your website. The Matrix is a framework for understanding your audience from a user-centered design perspective, and ensures that you will consistently get the more of right people through the right activities in the right order.
All participants will receive a personalized autographed copy of Tim Ash's book Landing Page Optimization: The Definitive Guide To Testing & Tuning For Conversions. Short lecture segments will alternate with practical hands-on work. Participants will complete exercises to apply key concepts to their specific situation.
Who Should Attend:
CMO's

Marketing directors

Online media buyers

Webmasters & web designers

SEO & PPC specialists
What You Will Learn:
An overview of conversion rate optimization

How to uncover the Seven Deadly Sins of Landing Pages

How to segmenting your online audience into mission-critical roles

Breaking down each role into specific tasks ("use cases")

Understanding key decision making steps (awareness, interest, desire, action)

A process for creating user-centered websites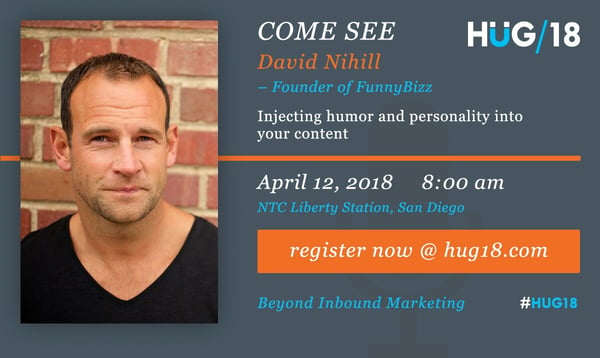 Speaking to Engage: The only workshop on public speaking you'll ever need to take!
Let's just be real for a minute: most public speakers are boring. And aside from making your day a little less fun, dull presentations are bad for business.
Audiences have become conditioned to receiving information with a dose of entertainment, and that makes humor a critical tool for any professional communicator.
We want our data with a punchline these days– witness the success of The Daily Show or the stickiness of many of President Obama's speeches for example. Every one of the current top ten TED talks are funny.
It's not just about getting some laughs to make yourself feel good; it's about using humor to grab and hold your audience's interest, making your message stickier and ultimately more persuasive. In a world full of bland, dull speakers, if you stand out, you win!
David joins you to share the principles, techniques and tools of the world's best TED speakers in a humorous talk /workshop based on his bestselling book Do You Talk Funny? 7 Comedy Habits to Become a Better (And Funnier) Public Speaker.
In this highly energetic, engaging and funny talk or workshop, audiences will learn:
How to craft a story and content that your audience will want to listen to.

How and when to include the best parts of your presentation for greatest impact.

How to deal with stage fright and flop sweat.

How to avoid going blank on stage.

How to master the two most important parts of your performance: timing and delivery.

Tons of never heard before actionable tips to apply immediately in your next public speaking engagement.
Whether you're crafting a story for your business or your own personal endeavors you'll leave this class with the tools you need to connect and engage your audience through funny story.
Still have questions about whether HUG18 is the right event for you? Check out our last event recap for more info.
SD Inbound is a 501(C)(3) founded to provide free and low-cost education to the local San Diego professional community. Learn more about SD Inbound and how you can get involved today.