What it costs to Master & Certify Your Inbound Marketing Skills
Enrollment for the 2023/2024 Winter cohort is accepting applications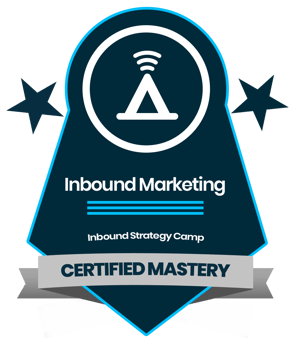 EARN YOUR STRIPES
An advanced practical education program for senior marketers looking to make an impact on revenue with inbound marketing.
A certification built for the marketers who do good work and want to level up their expertise and career.
Apply what you've learned
Collaborate with peers and a certified mentor
Make an impact at work and generate revenue
Become a credible inbound marketing expert
Earn a credential employers can trust
Next Level!

I've been an inbound marketer for six years now and have built a multi-million dollar inbound agency. This workshop is absolutely spot on in terms of helping people master their approach to inbound. If you're an advanced marketer and want to take your inbound to the next level, these are the workshops for you.
MASTERY BY TEACHING!

This is no "rubber stamp" certification. There's a saying that you never really learn something until you're able to teach it to others. Obtaining an Inbound Marketing Master Certification requires that participants develop and demonstrate true expertise in inbound marketing AND be able to teach and mentor their peers — all while demonstrating that the strategies they've developed in the program make a real and measurable impact in the form of revenue growth for the businesses where they work.
Expertise!

The high level of content marketing expertise of the mentors and the focused collaboration among the group made this one of the best workshops I've attended, and certainly the best on inbound marketing. I highly recommend it to anyone looking to develop an actionable inbound strategy.
BOUNCING IDEAS!

The Content Marketing Strategy Workshop was exactly what I needed to sit down and build the foundation of my company's long-term content strategy while bouncing ideas and questions off of an intelligent group of other marketing professionals.
Frequently Asked Questions
Answers to all of your frequently asked pricing questions.
This program is best suited for professional marketers who own or directly influence a content strategy and are accountable for the results of the inbound campaigns. This could be an in-house marketer or a consultant expected to deliver results for their clients.
The program attracts curious individuals who are collaborative, continuously learning, upskilling, and want to get to the next level in their career.
While each individual's campaign performance and completion will vary in length, you'll be working side by side with peers in your cohort and a dedicated mentor for 12-16 weeks. After completion, you'll still be connected to your peers, mentors, and alumni in the masters community to go to for support and collaborate with.
People who do not want or need a content strategy created and implemented in the next 2-3 months. Folks that already know everything.
Yes, we offer a 20% discount for groups or small teams of two who want to collaborate on the same strategy and campaign.
Yes, you can view real live examples of the curriculum from other professionals going through the program like Kathleen Booth (host of the Inbound Success Podcast). You can also see the work they did throughout the program.
This is what you do once you've finished those certifications (eg, HubSpot's Content Marketing Certification). This is the practical program where you do the work and collaborate with expert marketers to master what you've learned. It's not hypothetical and there are no tests, only results and making a real impact at work (read: revenue) will get you across this finish line.
We are committed to your success through the program and expect a shared commitment from you. If circumstances require you to leave the program, we will work with you to ensure you are refunded for the balance of the program.