Earn Your Stripes With The Inbound Marketing Master Certification
Master & Certify Your Inbound Skills
Master your inbound content strategy skills, make an impact at work, and prove your credibility in the only practical certification program with certified inbound coaches and peers.

The Inbound Marketing Master Certification (IMMC) was developed in partnership with Justin Champion, author of the "Inbound Content" book, Principal Inbound Professor at HubSpot, and Founder of Inbound Strategy Camp. Applicants will receive access to his Advanced Inbound Content Strategy Guide in order to prepare for the master program.
If you are interested in taking your inbound marketing skills and career to the next level or getting certified for the great work you've been doing, you are in the right place.
The IMMC program will
Help connect you with other inbound marketing masters

Provide you a certified inbound coach and peers to collaborate with

Earn a subject matter expert level credential

Open up career opportunities for you
Who this is for:
Marketers looking to continue learning, upskilling, and prove their credibility with 5+ years of experience and at least 3 years specifically practicing Inbound. Typical roles include marketing directors and managers, content managers, and inbound consultants who own or influence a content strategy. If you are a one person marketing team or inbound strategist, this is especially built for you.
Details
Enrollment: Monthly group enrollment in connection with the Advanced Content Strategy Workshop
Time: IMMC is self-paced. Professionals are required to implement and optimize a minimum of one inbound campaign supporting a broader long term content strategy. The program must be completed within six months.
Cost: $2,400 tuition + $1,200 first year membership to the masters community. We offer a pay-as-you-go plan, financing options, group discounts (20% off for 2 or more), and a referral program (20% of tuition).
Earn: $150/hour consulting fees for mentoring currently enrolled professionals (after earning your IMMC)
Certified Inbound Coach: Work directly with a certified inbound coach to develop and implement your inbound content strategy (6 hours included, additional hours available for a fee)
Credibility: Earn a master credential backed by the evidence of your work that is portable and easily shareable on any social network or linked to from a resume
IMMC Learning Outcome: The recipient has the competency and proven ability to plan, implement, manage, and analyze an inbound marketing strategy.
Mastery Assessment Model™: The model we use to develop, validate, and showcase your subject matter expertise.
Learn ⇒ Apply ⇒ Measure ⇒ Review ⇒ Teach ⇒ Certify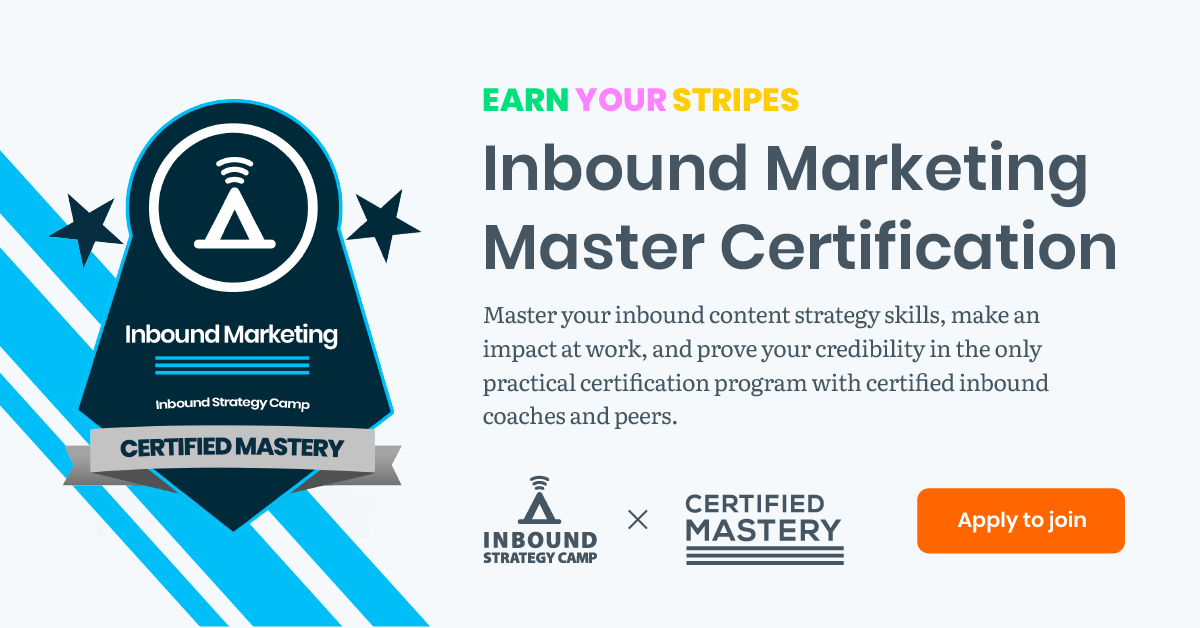 $4,000
$1,000 x 4 months
Become a certified Inbound Marketing Master and mentor
Program Dates: Q1 22' - Join the Waitlist
Includes everything from "Implement"
Additional 3 hours with a certified inbound mentor
Access to the certified masters community upon completion (for one year)
Become a certified mentor and earn consulting fees
*$200 discount for those who previously earned the Project Charter certification from the Advanced Content Strategy Workshop