Monthly on Thursday @ 12 PM PST
Inbound Marketer's Mastermind Hour
Update: The calendar invite is a recurring meeting, you will register for all future masterminds.
An invitation only mastermind group where you can collaborate with your peers and mentors.
Join the Inbound Marketer's Mastermind Hour to build meaningful relationships with your peers while helping each other solve unique challenges and come up with creative ideas to test out in your marketing efforts.
The goal is to have each person walk away with at least one strong idea they can implement.
Seating is limited to 9 presenters/contributors in two breakout rooms. Presenters are selected on a first come first serve basis.
Types of challenges we've collaborated on:
Virtual event follow up strategy to turn leads into customers

Generating higher quality backlinks to increase organic ranking

Where to get started on a content strategy when launching a brand new product or business
Join the monthly Inbound Mastermind to:
Get help solving your unique marketing challenges

Contribute your creative ideas to help peers solve their challenges

Network with inbound marketing professionals and build new meaningful relationships

Receive live mentorship from certified inbound marketing masters
Real Example From The Group:
Challenges to solve: "Our company is unable to execute some lines of business as a result of the pandemic, and have thus frozen our marketing budget until further notice. We have upped our LinkedIn posting and publish a blog post once a week, but we're looking for other free but effective methods of marketing during this time."
Impact: "I appreciate you consolidating these strategies and, of course, talking them through with me! I already have time scheduled tomorrow morning to run through these ideas with my team... My meeting went well and my team was excited with the ideas brought forth. We're talking to the Sales team this week about the "customer research" (personas) and other team members will be pitching in on blogs to get that strategy going."
Want to get peer support on your challenge to solve?
In order to be one of the people selected, you must submit your project/challenge to solve 24 hours in advance of the webinar. This is event is invitation only and not all projects submitted will be accepted but all are welcome to listen in on the call.

Mastermind Hour Certified Mentors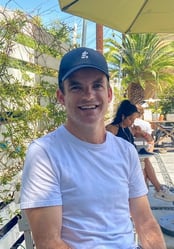 Hansen Hunt
CEO / LEADER
Certified Mastery / SD HUG
Hansen has 15 years of inbound and digital marketing experience in B2B, B2C, SaaS, e-commerce, enterprise services, and has worked with clients across a wide variety of industries. His super powers are connecting people, ideas, and telling stories to generate demand. He has led the San Diego HubSpot User Group for 7 years teaching local professionals how to get the most value out of HubSpot.
What is Certified Mastery?
Certified Mastery mentors, connects, and certifies subject matter experts in order to help professionals advance in their career, give employers a transparent way to find certified talent, and provide a platform for certification developers to launch and scale professional credentials.

Mastery certification programs are peer reviewed, evidence-based, self-paced, and pay as you go in order to take what you have learned and develop mastery of the subject matter. Each professional enrolled is aligned with a mentor (previously certified master) in their field and has access to a community of masters to collaborate and share results with.