Inbound marketing is about drawing in an audience: in to buy your product ... in to engage with your brand.
But once you've achieved this, what comes next? This year's HUG18 welcomes an A-list lineup of speakers who will guide us through those next steps and make sure you're aligning your messaging to truly connect with your audience. Let's take a look at a few of these thought leaders in the space!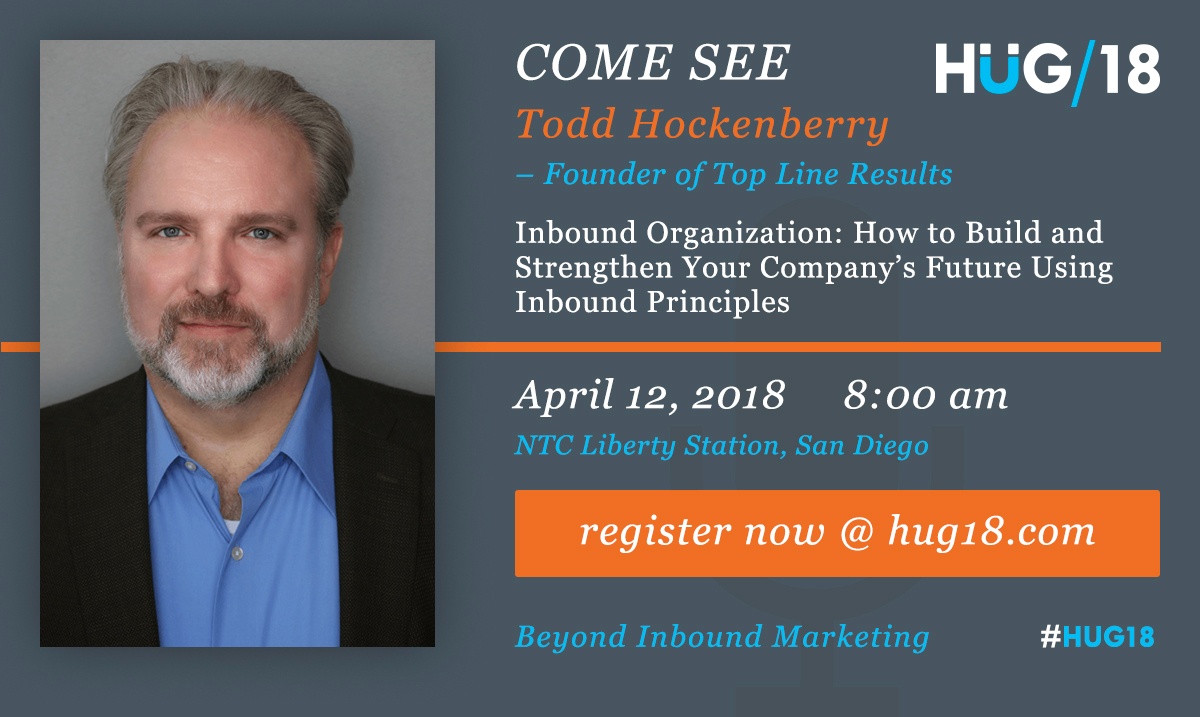 Todd Hockenberry
Founder of Top Line Results, Todd Hockenberry, will share his insights on How to Build and Strengthen Your Company's Future Using Inbound Principles. He believes that "creating a remarkable customer experience" belongs on the desk of anyone in the position of organizational leadership. However, before tackling the solution, a strong, foundation must be created and maintained.
He will walk us through these foundational principles and how they apply to every person your organization. When it comes to meaningful relationships and strong connections, there is often a disconnect between saying and doing. Through is presentation, Hockenberry will focus on how to be a doer.
For more, visit his blog, Top Line Results: Writing Testimonials That Generate Leads.
Tweet Todd at @ToddHockenberry.

Sujan Patel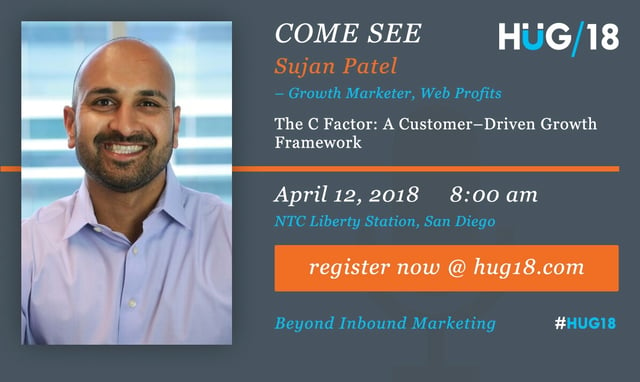 Entrepreneur Sujan Patel also believes in "being customer obsessed." He will speak about customer-driven growth and how to build a framework through content and community. Although everything we do as inbound marketers is for the customer, it can challenging to keep your eye on that singular goal, especially in the midst of KPIs and other growth measurements. Patel will show us how to create content that provides solutions to customer problems. Don't miss his presentation at HUG18. The C Factor: A Customer-Driven Growth Framework, will guide you through providing more value to create longer-lasting connections.
For more, check out his blog, and one of my favorite reads: Growing a Company in a Competitive or Saturated Market.
Tweet Sujan at @SujanPatel.

Derric Haynie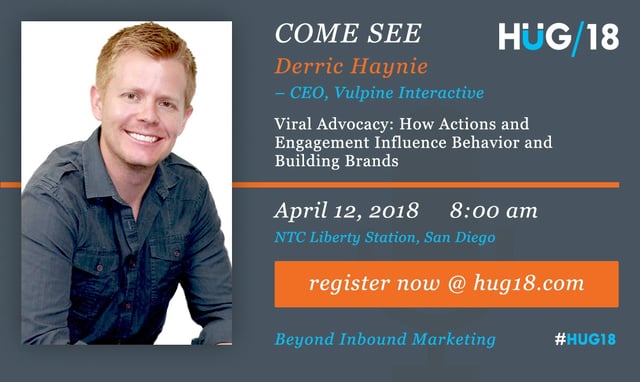 Vulpine Interactive CEO Derric Hayine also highlights the significance of audience connection through brand advocacy. Don't miss Derric at HUG18, speaking about Viral Advocacy: How Actions and Engagement Influence Behavior and Build Brands. His belief that word of mouth remains the first, last, and best marketing channel.
Do you know what people are saying about your brand? Are you creating a community of brand advocates through your inbound marketing strategies? Haynie will demonstrate how you can achieve this through email marketing and content marketing. And more importantly, he will share why it's necessary to help build your brand.
Check out the Vulpine Interactive blog to answer the question: What Does a Social Media Marketing Agency Do?
Tweet Derric at @SixPeppers.

This is only a snapshot of the speakers and presentations you can expect at HUG18 on April 12, 2018 at Liberty Station. The full-day event will host 16 experts covering various topics covered under the umbrella of inbound marketing.
Still have questions about whether HUG18 is the right event for you? Check out our last event recap for more info.
SD Inbound is a 501(C)(3) founded to provide free and low-cost education to the local San Diego professional community. Learn more about SD Inbound and how you can get involved today.