This was my first time to the Hubspot Inbound Marketing Conference. Overall this was one of the best conferences I've attended. From the thoughtful courses offered to the modern venue's amenities I.N.B.O.U.N.D. spells success for marketers.
(I)nsightful
The keynote speeches were insightful and tended to focus on business philosophy rather than just marketing and advertising. I especially enjoyed Malcom Gladwell's keynote where he discussed the characteristics that successful entrepreneurs share; openness (considers new ideas), creativeness (have great ideas), conscientious (have follow through and obsessive determination), and disagreeable (tune out the "nay" sayers).
(N)o Entry

A few times the class I wanted to attend was full and I couldn't get in. I have not been to a work related conference with over 10,000 attendees, ever! This can make for some crowded escalators and hallways. Bummer, however it ended up working out in my favor because it led me to discover the Prodigy Bar.
(B)raniacs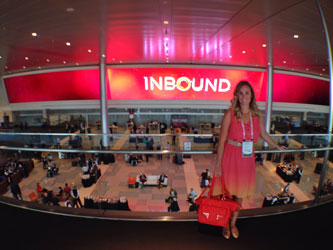 I really enjoyed getting specific questions answered at the Prodigy Bar. I worked with several HubSpot staff members during my time at Inbound and we discussed marketing techniques and brainstormed solutions to my particular questions. I got amazing hands-on technical support for my HubSpot platform questions. The HubSpot staff was eager to help me become the best inbound marketer I could be.
(O)utsourcing
As a one person marketing department I'm constantly looking to outsource certain elements of my marketing; pay per click, SEO, content creation, workflows, emails, etc. It was nice to get to walk around and meet all the vendors who are already familiar with the HubSpot platform. And with the addition of inbound.org  I can find other people/vendors already familiar with HubSpot.
(U)pgrades
HubSpot's consideration for customers is unlike any other vendor I work with. They really look out for the customer's needs, they take suggestions for improvements and implement those suggestions. They're constantly improving and enhancing the software and trickling those advancements down to all the customers. A perfect example of this was the announcement, and subsequent release, of the new CRM HubSpot built from the ground up. In addition to the new analytics reporting such as; attribution report, contacts reports, and event reports
(N)ew App


Old school Conference: Printout class descriptions & schedules, highlight sessions to attend, route your journey, consider timing, arrive at conference, find out they "changed the schedule", throw out plan.
New school Conference: Download the app, sign in, change view from entire event to personal view. The End! 

All changes to the schedule happened immediately which meant I always had an up-to-date itinerary. Oh and there was a social element so I could connect with people attending without having to blow up my own Twitter feed. Additionally, when it became obvious that the classes were overcrowded, Hubspot ended up moving some classes to bigger rooms and the app would let me know the new location.
(D)estination
Boston was a beautiful city to visit and I enjoyed learning about its history. Besides falling in love with oysters at Row 34, the convention center was enormous and well-equipped (wifi, seating, food). Wear your walking shoes because this place is huge and had a massive amount of attendees. At times it was confusing to get around the convention center being my first time there however, it was always easy to find a HubSpot staff member.
Improvement suggestions:
Provide course description sooner in the year preferably two months before the convention.
Provide more detailed maps showing how to navigate the convention center, maybe some GPS integration into the app.
Turn the volume down on the music at the keynotes! My eardrums were vibrating during Brian and Dharmesh's "phone booth" is entrance.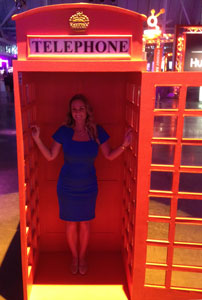 ---
Alicia Guillette is Vice President at Valley Box Company, an industrial packaging manufacturer based in San Diego, CA. She has been in charge of the marketing department since 2006. In 2012 she was promoted to Vice President and is charged with directing the business development and sales efforts while monitoring the results, quantifying the successes and shortfalls, and adjusting as needed.